Highlights from the 2000 Sound of America European Concert Tour
We are happy to report that we had another successful tour of Europe this past July!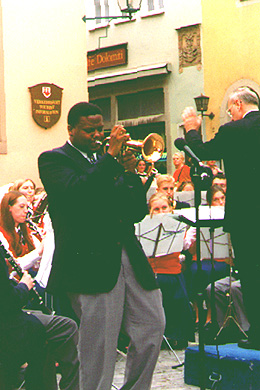 The SOA Staff and SOA tour members were happy to welcome back trumpeter, Sean Jones, from Youngstown State University. Sean is shown below as soloist on flugelhorn during "Alfie" at the Rothenburg concert. Sean was also featured in a Count Basie number that featured the saxophone, trumpet and trombone sections as well. We are happy that Sean could squeeze us into his schedule before and after touring with theatre shows and cruiseline entertainment gigs.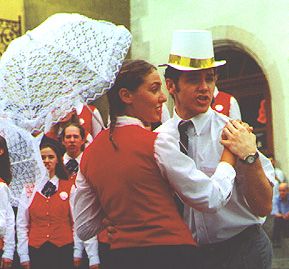 The chorus kept the audience on its toes with musical selections of different styles and cultures. Below, you will see some students during the choreographed number, "Ragtime."
The Sound of America was warmly received also in Inzell, Germany; Stresa, Italy and Grindelwald, Switzerland. Our thanks to the people and those responsible for the success of the concerts in our "grand" concert halls, in Paris, France; La Chaux-de-Fonds; Switzerland, Luxembourg City, Luxembourg and Strasbourg, France. The choir also was featured in a mass service in St. Mark's Basilica, Venice, Italy and also sang in Notre Dame Cathedral, Paris. It's easy to see that the performances were the highlights of the tour!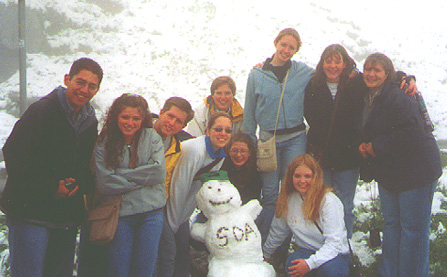 We were lucky to have almost perfect and cool weather this year, especially since Europe had received weeks of rain before our arrival. A rainy day in the ski resort town, Grindelwald, turned into a snowy day on top of First, at the summit of the cable car.
This year we experienced high water in St. Mark's Square in Venice, due to high tide and the moon phases. We were happy to meet up with several alumni who were able to attend our concerts while studying, working or touring Europe themselves.
LEARN MORE ABOUT SOA:
NEWS / 2013 Itinerary / FAQ's / Directors & Staff / Eligibility / How to apply / Cost & Inclusions / Non-Profit Information / Music / Safety & Security
Special Alumni / Distinguished Alumni Talk about SOA / Testimonials from Past Tour Participants, by state
2012 Highlights / 2011 Highlights / 2010 Highlights / 2009 Highlights / 2008 Highlights / 2007 Highlights / 2006 Highlights / 2005 Highlights / 2004 Highlights / 2003 Highlights / 2002 Tour Highlights / 2001 Tour Highlights / 2000 Tour Highlights / '99 Tour Highlights / '98 Tour Highlights / '97 Tour Highlights /
ALUMNI news / Photo Gallery / Fun websites

updated 10-23-12