2005 Sound of America Tour Highlights
We had many exciting and interesting things occur on this past summer's tour! We started our 29th annual tour at Elizabethtown College campus, where we were very warmly received. We enjoyed the beautiful campus and great food! While on campus, alumnus and professional musician, Sean Jones, (trumpet), stopped by to see the kids and to talk with them, and he even played for them. (Sean is the lead trumpet for the Lincoln Center Jazz Orchestra with Wynton Marsalis.)
Our tour in Europe went very well - with receptive audiences in each location, talented tour members, great bus drivers (almost all have driven for SOA for many years), and many fun times. The concert at Elizabethtown was carried on a local tv station (Fox43); our concerts were often published in European newspapers; and we received an unexpected personal letter from General George S. Patton's grand-daughter.
The 2005 SOA Tour was 238 people strong, of which 200 students were in the choir and band, the rest were chaperones and staff. All but seven states were represented in the 2005 tour. We even had students from as far away as Alaska and Hawaii!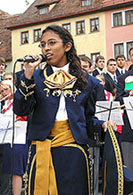 This year, as a special featured portion of our performances, students from Laredo, TX led a few fellow SOA members in becoming a mariachi band. Soloist Alexia Quintero sang lead in "El Pastor". Europeans and Americans alike were fascinated as they took in a taste of southwest American culture.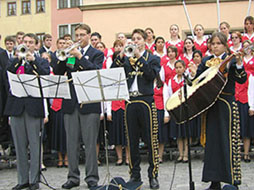 Dr. Ausmann, the Choir Director, chose a number of crowd-pleasing choreographed pieces like "Razzle Dazzle" and "Don't Tell Mama", as well as sacred and other more technical musical selections. Favorites included "Prayer of the Children" by Kurt Bestor, "The Awakening", by Joseph Martin , and "Whistle, Maggie, Whistle". Another featured vocal soloist was Steven Stuts, from New York, who was able to skillfully belt out Billy Joel's "New York State of Mind".
The band, under the direction of Mr. Barr, performed many special band arrangements such as the dramatic musical score from the film, "The Ten Commandments" and a sensational audience pleaser entitled, "Horray for Hollywood!" Lacey Sullivan, a '98 SOA alumnus, now serving as a US Marine Corps music instructor at the United States Armed Forces School of Music, in Norfolk, VA, was the 2005 featured flute soloist performing "The Carnival of Venice."
For the first time in SOA history, hand chimes were part of the concerts! Experienced ringers from the band & chorus were featured in the combined number, "God of Grace". They added a beautiful sound that the Europeans loved. A Rodgers & Hammerstein Medley was also a hit at each concert, as well as the usual favorites, "Battle Hymn" and "Stars & Stripes".
Each concert location had its own charm, even Rosheim, a new location for SOA. This little Alsacian town in France welcomed SOA with the locals in the streets waving to us as we entered the town. As with many of the other concerts, there was a large and enthusiastic crowd present to applaud the efforts of the musicans.
As usual, highlights of the tour included the choir's performances in Notre Dame Cathedral, Paris and Saint Mark's in Venice.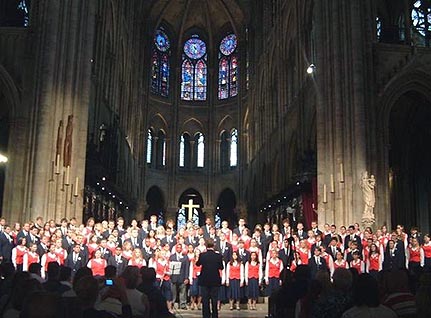 Everyone loved the standing ovations and the rhythmic clapping at the conclusions of just about every concert.
SOA members loved the majestic snow-capped mountains; skating in Cortina's Olympic Ice Stadium; seeing the Palace of Versailles or the Paris Opera, as well as the famous museums; eating lots of Italian gelato; boating to and seeing the palace and gardens on the island of Isolabella, and getting a chance to pay respect to our fallen service men and women of World War II in Luxembourg at the American Cemetery.
In addition, the tour members had a great time getting to make new friends with fellow musicians from around the United States. All-in-all, it was a great group of people seeing and doing great things! We thank the tour members, students and adults for their cooperation and efforts that made it a trip to remember!
LEARN MORE ABOUT SOA:
NEWS / 2013 Itinerary / FAQ's / Directors & Staff / Eligibility / How to apply / Cost & Inclusions / Non-Profit Information / Music / Safety & Security
Special Alumni / Distinguished Alumni Talk about SOA / Testimonials from Past Tour Participants, by state
2012 Highlights / 2011 Highlights / 2010 Highlights / 2009 Highlights / 2008 Highlights / 2007 Highlights / 2006 Highlights / 2005 Highlights / 2004 Highlights / 2003 Highlights / 2002 Tour Highlights / 2001 Tour Highlights / 2000 Tour Highlights / '99 Tour Highlights / '98 Tour Highlights / '97 Tour Highlights /
ALUMNI news / Photo Gallery / Fun websites

updated 10-23-12