2004 Sound of America Highlights
What an exciting year! Our 2004 Sound of America Summer Music Program began at Dickinson College with 220 students from across the country. After a hot and dry summer in '03, this past summer's temperatures were quite cool and refreshing.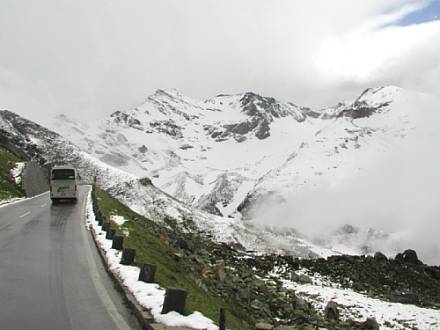 One example of this was when we took the beautiful and exciting Grossglockner Mountain pass through Austria to Italy. A special treat for us that day was the fact that it was snowing during most of the ride through the mountains! The scenery was spectacular, and SOA members played in the fresh snow!
Aside from the planned site-seeing activities in each country, SOA members encountered some unusual things too. Probably the most notable was when a number of students met actor and current governor of California, Arnold Schwarzenegger, in Salzburg, Austria. He was visiting the country after the passing of Austria's president.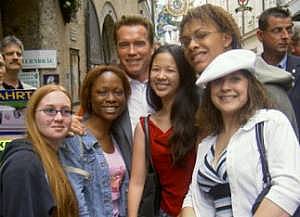 This year's band and choir were perhaps among the best ever. Audiences were warm, with especially large full-house crowds in Stresa, La Chaux-de-Fonds, Luxembourg and Molsheim. Our last concert was in a new town for SOA. The little town of Molsheim in Alsace, seemed thrilled to welcome us! The mayor of the town explained to the crowd and to our performers that it almost to the day of the 60th year anniversary date, that the Americans and Allies freed their town during World War II. Both directors subsequently received the "medal of honor" from the Mayor. The concert organizers had expected 250-300 spectators, and over 700 enthusiastic people attended giving us standing ovations! People were standing outside the hall listening, only because there was no more room in the concert hall. Even the United States Consulate was represented at the concert.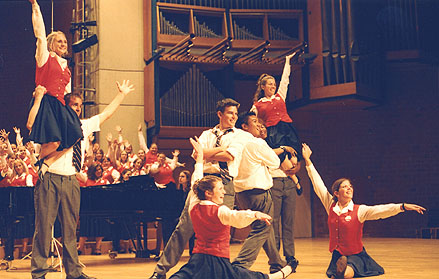 Choir members enjoyed the experience of performing in centuries-old cathedrals like Notre Dame of Paris and San Marco of Venice. Impromptu performances included St. Jakob's church in Rothenburg, Mirabel Gardens' cultural center, Salzburg, Borromeo Palace on Isola Bella, Italy and Verona's 1st century BC Roman Coliseum. Besides sacred pieces, the choir also included upbeat pieces for the other concerts including "Cheek to Cheek", "Mama, I'm a Big Girl Now", from Hairspray, and a choreographed medley of "Footloose".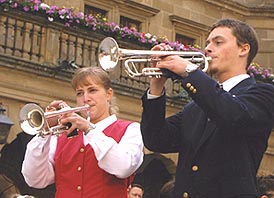 The Band featured returning trumpeter from UCLA, Ben Tellinghuisen, on a special arrangement of "Slavische Fantasie". He and another featured trumpet player, Beth Peroutka of Maryland, performed a rare arrangement of "Trumpet Fiesta". Other famous pieces in the band's repertoire included "La Belle Helene" by Offenbach and the Glenn Miller Medley, arranged by former Army Field Band arranger, Ken McCoy.
This year's big combination pieces included "A Jubilant Song" and "The Magic of Disney", which seemed to go over very well, especially with Pooh, in Disneyland, Paris.
This year was the first year that we had a second generation tour member whose mother had toured with us in 1978 as a student musician. One of our other tour member's father was a candidate for the U.S presidential election under the Constitution party.
And not to be forgotten: during our Bon Voyage concerts, the Sound of America recognized Marguerite Tussey, former SOA chaperone from '82, who was presented the Medal of Honor from the French Government for her efforts during World War II this past spring. She was one of only 100 Americans to receive this award.
LEARN MORE ABOUT SOA:
NEWS / 2013 Itinerary / FAQ's / Directors & Staff / Eligibility / How to apply / Cost & Inclusions / Non-Profit Information / Music / Safety & Security
Special Alumni / Distinguished Alumni Talk about SOA / Testimonials from Past Tour Participants, by state
2012 Highlights / 2011 Highlights / 2010 Highlights / 2009 Highlights / 2008 Highlights / 2007 Highlights / 2006 Highlights / 2005 Highlights / 2004 Highlights / 2003 Highlights / 2002 Tour Highlights / 2001 Tour Highlights / 2000 Tour Highlights / '99 Tour Highlights / '98 Tour Highlights / '97 Tour Highlights /
ALUMNI news / Photo Gallery / Fun websites

updated 10-23-12