These pages are just for fun! Most are live cams.
See our itinerary and other pages for more informative links.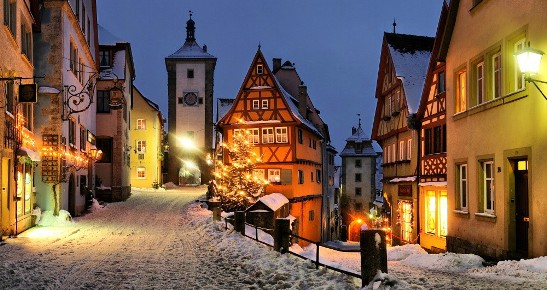 It's Christmas Market Time! Check out the links with a star to see the Christmas festivities in certain locations.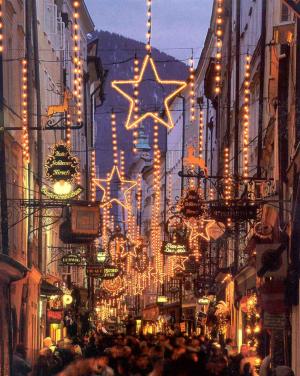 The time of day in Europe is 6 hours earlier than U.S. Eastern Standard Time (and 9 hours ahead of Pacific), remember that many live webcams will appear dark unless you view them during day-time local hours in Europe.

GERMANY
Click for weather forecast

RothenburgThis is the marktplatz area where the SOA typically performs its first concert.There is major cleaning and refurb being done in the square, so the scaffolding could be in the way of the camera, or noticeable on the buildings. See the Night Watchman's site.Click on "webcam".

Munich's Marienplatz main square
Heidelberg across the Neckar
Cologne was one of our first stops in some of our past itineraries. See this live cam of it's famous cathedral, the only large building not toppled by air raids during WWII.
See Oberammergau's live cams of an overview of the town.
Here is a live cam of Chiemsee, Germany.
Neuschwanstein Castle and another distant view. This is not a live cam, but gives various 360 degree views of the castle.
Inzell See the links on this page.

AUSTRIA

Here is a live cam of the Golden Roof in Innsbruck .
See the cam of Salzburg , and otherSalzburg views: Residentzplatz with the Dom

One of our favorite mountain passes is the Grossglockner - click on the photos at the top of it's page to view other recent photos. Here's another view.
Seefeld area (Alpine slide region)- Tyrol - these are 280 degree webcams
We haven't been to Vienna for over two decades, but regardless, here is a page with numerous Vienna webcams.

ITALY
NEW! Finally a nice page of various cams around Venice! The St Mark's Square, and Rialto bridge

Verona and it's Roman Arena
Stresa and Lake Maggiore (direct link here)
See beautiful shots of the Dolomites from several beautiful live cams around Cortina.

SWITZERLAND - some great webcams!!!!
This is a beautiful 360 degree live cam on top of First, near Grindelwald. This seems not to be functioning currently, but look at the next link - it's spectacular!
Here are several of these 360 degree live cams. If it's evening there now, you can scroll on the right to see panoramas from earlier in the day. Snow has landed!
View scenery and weather on top of First, (Grindelwald, Switzerland), which most SOA participants visit by taking the cable car ride up the mountain. We're wondering if this is current - as the view hasn't changed recently. View of the Wetterhorn.
This site gives you the choice of several mountain top live cams in Berner Oberland. See the Jungfraujoch and others.
Here's a page with several live cams: Grindelwald
Luzern and another of Luzern - the Jesuit church area
Lugano from the mountains, Lugano town square lakeside cams

FRANCE
A very nice live cam of the Eiffel Tower as well as several other live cams of around PARIS. Here's a close view, updated every 10 minutes.
We haven't been to Nice, France since the late 70's - but here it is anyway! Click on one of the options ("Find out more")to see which live cam you want to view. Then scroll down for the live picture.
Strasbourg, although distant shots and has had technical difficulty lately. Try this one, too.

BELGIUM:

We haven't been to Brugges since 1991, but here is a cam of this cute town.

Brussles: The Grand-Place

CZECH REPUBLIC:

It has been so long since we've been to Prague that the country's name has changed (and much more!). Several more views at this site.

LUXEMBOURG:
View of the bridge over old town.


LIECHTENSTEIN:
Live cam of mountains, Here is Vaduz

ENGLAND:

Big Ben/Parliament; Tower Bridge

The NETHERLANDS: It's been years since we've been to Holland, but enjoy the live cams: Amsterdam
LEARN MORE ABOUT SOA:
2014 Tour Info: 2014 NEWS / 2014 Itinerary / FAQ's / Directors & Staff / Eligibility / How to apply / Cost & Inclusions / Non-Profit Information / Music / Safety & Security / Featured Guest Clinicians 2014
SOA alumni testimonials and acheivements: Special Alumni / Distinguished Alumni Talk about SOA / Testimonials from Past Tour Participants, by state
Tour Highlights from past SOA summer programs: 2013 Highlights / 2012 Highlights / 2011 Highlights / 2010 Highlights / 2009 Highlights / 2008 Highlights / 2007 Highlights / 2006 Highlights / 2005 Highlights / 2004 Highlights / 2003 Highlights / 2002 Tour Highlights / 2001 Tour Highlights / 2000 Tour Highlights / '99 Tour Highlights / '98 Tour Highlights / '97 Tour Highlights /
See what the tour is like: PHOTO GALLERY / Fun website links /
PayPal Transactions: Make a Donation to SOA on-line / Make a Tour Payment online for a current student or applicant
Alumni: ALUMNI news and student news / Become a fan of our SOA Facebook page / Join your SOA year's Facebook group page by searching your year and "Sound of America" in Facebook

Last updated: 12-9-14