Sound of America 2001 Tour Highlights
The summer of 2001 was the 25th annual, consecutive Sound of America tour of Europe. Two hundred and twenty-four students and adults, representing 47 states traveled through six countries, (Germany, Austria, Italy, Switzerland, France and Luxembourg) on the 25-day tour. The Sound of America received letters of commendation from President George W. Bush and former Pennsylvania Governor, Tom Ridge.
This year, Mr. Dan Shaw returned as our choir director. He served as Sound of America's choral director from '77-'94. We were happy to have him join us again as he always brings the best out of our choirs. In addition, Ali Nevins, our accompanist, did a wonderful job designing and teaching the choreography.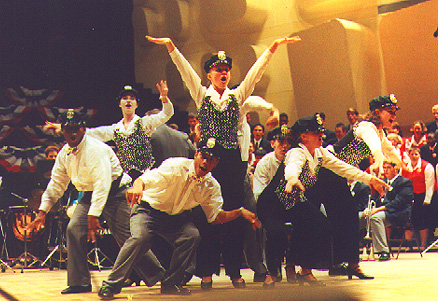 Many of this year's concerts began with a special featured presentation by three Hawaiian participants, who worked together at Dickinson College to create a contemporary "hula" dance. The audiences in Europe (as well as the Bon Voyage concerts at Dickinson) loved it! This year's choral repertoire consisted of works by mostly American song-writers and a featured choreographed presentation of Hollywood film music in "Cinemagic". Our featured soloists were Anna Popov from Louisiana and Marsha Hancock from North Carolina. The band featured several special arrangements from movies as well as other compositions. The combined pieces included an Irving Berlin medley and a special arrangement of music from "Star Wars, Episode I" (Phantom Menace). Standing ovations and encores occurred at every concert! (For a complete listing, click to go to the past repertoire pages.)
Our concert in Rothenburg was again, partially viewed on it's local webcam. The webcam can be viewed from our funwebsites page, and is always focused on the Marktplatz. Our concert in Cortina's Olympic Ice Arena was broadcasted on local tv the night after the actual concert.
We had fantastic audiences throughout the tour. The concert halls were packed! This was even noted in the newspaper articles written in the Luxembourg and La Chaux-de-Fonds Newspapers. The directors were honored in many locations, as we were celebrating our 25th Tour Anniversary. SOA presented special plaques to show our gratitude to those who have helped us arrange our concerts in Europe. Of course, the choir's performances inside Notre Dame Cathedral, Paris and St. Mark's Basilica, Venice, were very special moments.
Other concert highlights occurred when Maurice Clement, accomplished Luxembourg pianist/organist, accompanied the SOA chorus on the organ in Luxembourg's Conservatory concert hall. We were also given a special presentation at our concert in St. Roch church, Paris, where, before a huge crowd, a special tribute on the church's organ was performed. Our motorcoach company for all 25 years, Voyages Clement, offered us not only special gifts at the Luxembourg concert, but also a huge cake, with special artwork representing SOA and the motorcoach company at our farewell party the last evening of the tour.
Another notable special moment on tour occurred when several SOA students who had ROTC experience were offered the opportunity to retire and raise the flag the morning we arrived at the WWII American Cemetery in Luxembourg. SOA Students paid their respects to the American soldiers and offered a brief musical tribute during their visit, including the playing of taps.
A special thank you to Brigitte anda Eric Le Clair, of Antwerp, Belgium, for offering their photos and copy of the Luxembourg concert newspaper article on their website .
LEARN MORE ABOUT SOA:
NEWS / 2013 Itinerary / FAQ's / Directors & Staff / Eligibility / How to apply / Cost & Inclusions / Non-Profit Information / Music / Safety & Security
Special Alumni / Distinguished Alumni Talk about SOA / Testimonials from Past Tour Participants, by state
2012 Highlights / 2011 Highlights / 2010 Highlights / 2009 Highlights / 2008 Highlights / 2007 Highlights / 2006 Highlights / 2005 Highlights / 2004 Highlights / 2003 Highlights / 2002 Tour Highlights / 2001 Tour Highlights / 2000 Tour Highlights / '99 Tour Highlights / '98 Tour Highlights / '97 Tour Highlights /
ALUMNI news / Photo Gallery / Fun websites

updated 10-23-12