HIGHLIGHTS from the
2002 SOUND of AMERICA CONCERT TOUR
An unexpected & exciting response for 26th year of SOA!
We are happy to convey that this past summer's tour of 2002 much more successful than we imagined! Believe it or not, despite a difficult year for America, the Sound of America Headquarters received the highest number of applications ever, even though the invitations were mailed at a later date than usual, and fewer invitations were mailed overall. Thanks to the unexpected enthusiasm of students and their parents, our tour was at full capacity this summer - 240 participants from 46 states, plus Washington DC! We regard this as a significant step which shows that Americans are recovering from last September's horrific attacks and economic worries. We think it shows the resiliency of American attitudes and the need to heal and encourage peace through music and goodwill.
SOA honored to have FDNY firefighter at concerts.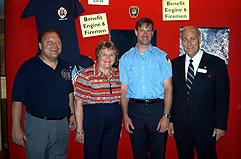 One of the most meaningful moments of our tour occurred when FDNY Firefighter Billy King of Engine #6 attended our two Bon Voyage concerts at Dickinson College. The concerts were performed before two full houses, and Mayor Kirk Wilson was present to help honor this member of a fire engine company which lost 4 of it's 5 men on duty September 11th. The Sound of America released a tribute CD, entitled, "A Patriotic Tribute" honoring the victims and families of those involved with the September attacks. All the proceeds from these CD's will go to Fire Engine #6 to help the families and other firefighters. The CD's contain patriotic music recorded live by SOA over the past 16 years. It was quite an honor that Firefighter Billy King took the time to come to our concerts. Several hundred CD's were bought by Europeans this past summer. It is our hope to continue to sell these CD's to help the victims of the attacks. More
SOA welcomes Randy Yoder, new Choral Director!
This was the first year for our new choir director, Randy Yoder, from York, Pennsylvania. We were very pleased as he did a fantastic job bringing the choir to such high levels of musicianship. The chorus members were thrilled to be under his professional direction! As always, the choir's performances in St. Mark's Basilica of Venice and in Notre Dame Cathedral of Paris were very special and emotional. Again on tour, Ali Nevins did a wonderful job as accompanist and choreographer. This year's choir was invited to warm up for it's first concert inside St. Jacob's church of Rothenburg. Members of the choir were encouraged by the professional personnel at the palace at Isola Bella on lake Borromeo and in the Palace of Versailles to perform a song or too. Choir members also sang an impromptu 2-3 songs in the world's third largest Roman Arena in Verona. Over the next several years, our previous director, Dr. Stephen Ausmann plans to alternate years with Mr. Yoder, serving as choral director.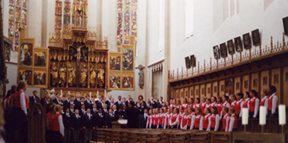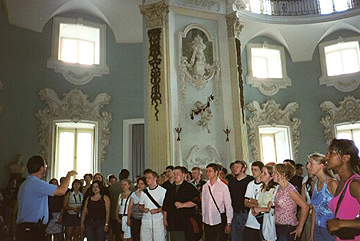 Click photo to enlarge
Concerts
Although we had wonderful concerts and large and enthusiastic audiences everywhere, the Sound of America group was especially moved when the concert in Paris, located in one of it's largest churches, began with a special tribute to the group in honoring the loss our country suffered last fall. This included a small French flag/drum/bugle corps and a special rendition of "The Star Spangled Banner" and the "Marseillaise" on the church's wonderful pipe organ.
As usual, the concerts in Rothenburg, Inzell, Stresa, La Chaux-de-Fonds and Luxembourg were also very special and extremely well attended, some locations with standing-room only. Our featured instrumental soloist this year was an '98 SOA Alumnus which is currently attending Indiana University of Pennsylvania. Aaron Patterson amazed audiences with Paul Bonneau's difficult classical piece, "Caprice en Forme de Valse" for alto sax.
Although the band's most exciting piece may have been Alfred Reed's "Hounds of Spring", the Europeans also enjoyed the Norwegian march, Valdres. The band added a little choreography this year during an entertaining piece that took the audience to the circus. Even our fun chaperones got in the act!
The European audiences ate up the choir's choreographed "Big Band Bash" which featured oldies like "In a Sentimental Mood", "It Don't Mean a Thing if it ain't got that Swing", and "Don't Get around much Anymore." Other favorite choral works included "Steam Heat" from the "Pajama Game" and the Platters' "Only You", "Blue Skies" and "That Lonesome Road" by James Taylor. Soloists Matt Drago (VA) and Sara Butler (TN) captivated audiences with "Bring Him Home" (Les Mis), and Puccini's "O Mio Babbino Caro", respectively.
Concerts concluded with the combined numbers, "Let there be Peace on Earth", "Beneath all the Stripes & Stars", a huge and challenging arrangement of My Fair Lady. As usual, the audiences were anxious to again hear the "Battle Hymn" & "Stars & Stripes Forever."
Other notes about the tour
We were fortunate to again have the same five great bus drivers as we had last year. Some have driven for SOA more than 7 times! Thanks to our incredible drivers and friends: Jean, Amorim, Josy, Norbert, and Marco!!
Salzburg is home to the movie, The Sound of Music, where tour members saw the movie version of the Von Trapp family house. What made this year's visit special was that one of our band members is an original Von Trapp family member grandchild. It was her first visit to Salzburg and she and a number of tour members were able to tour the actual Von Trapp family's real home just outside of Salzburg.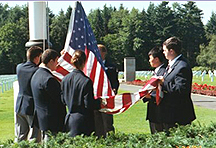 To make our visit extra special to the American Cemetery in Luxembourg, ROTC students presented and raised 2 new flags in the cemetery. The chorus sang to honor the fallen soldiers and taps was performed by our lead trumpeters.
We were extremely lucky with the weather - very little rain - as we finished our voyage right before the floods in Austria & Germany began. However, once again, the tide in Venice was so high that prior to the choir's performance in the basilica, most of St. Mark's square was covered in several inches of water!
This was the first year tour members didn't have to change money every time they arrived in a new country. Tour members used the new euros in all the countries, except Switzerland. Lucky for Americans, the exchange rate for Euros to US Dollars was easy to determine, almost exactly one to one.
We are also happy to report that none of our tour members encountered any anti-American sentiment while in Europe. We actually felt very much at ease, and very welcome. It was a wonderful trip!
LEARN MORE ABOUT SOA:
NEWS / 2013 Itinerary / FAQ's / Directors & Staff / Eligibility / How to apply / Cost & Inclusions / Non-Profit Information / Music / Safety & Security
Special Alumni / Distinguished Alumni Talk about SOA / Testimonials from Past Tour Participants, by state
2012 Highlights / 2011 Highlights / 2010 Highlights / 2009 Highlights / 2008 Highlights / 2007 Highlights / 2006 Highlights / 2005 Highlights / 2004 Highlights / 2003 Highlights / 2002 Tour Highlights / 2001 Tour Highlights / 2000 Tour Highlights / '99 Tour Highlights / '98 Tour Highlights / '97 Tour Highlights /
ALUMNI news / Photo Gallery / Fun websites

updated 10-23-12