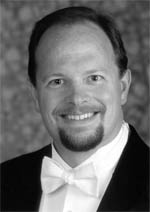 DR. DAVID GARDNER, SOA 1985 "All these years later, I still look back on my tour with SOA in 1980 as one of the pivotal events in my life. That sounds like an exaggeration, but it's not. The level of musicianship, the beauty of the music, the quality of the tour, the camaraderie, the magnificence of the performing venues and other sites all combined to confirm my desire to spend a career in music. I can also vouch for SOA's attention to the non-musical details - while running down a hill in the Austrian Alps (not a smart thing to do, by the way) I fell and badly tore the ligaments in my ankle. Fortunately, SOA had a physician traveling with us. I was able to get immediate medical attention, and continue the tour on crutches!"
David Gardner 
Conductor and Assistant Professor, Southwestern College, Kansas
David Gardner is currently Assistant Professor of Music, Director of Choirs, Voice, and Conducting at Southwestern College, Kansas. David directs the A Cappella Choir and Southwestern College Singers, and teaches Conducting, Vocal Diction, and Private Voice. MORE INFO
---

ENRIQUE "HANK" FELDMAN, SOA 1983, 1993: "At the impressionable age of 17, I made my first trip with SOA to Europe. Because of this experience, I grew in many obvious ways and in many intangible ways. Of course, musically, I was challenged at a collegiate level and I was surrounded by a very high level of musicians and because of this I came back as a more mature musician. I had never been on such an intense and focused tour! I came back from the trip as a more mature individual, having had to deal with being ready for concerts in all sorts of situations and understanding that the "show goes on!" However, for me the area of most growth was personally in the area of social and emotional control and awareness. I saw and experienced other cultures... their food, their songs and their spirit for life... I saw the larger world and began my own journey of seeing my place in it. For this and for the many friendships I made, I am eternally grateful. SOA was a part of childhood and a large part of who I am today."

"Discipline, responsibility, and learning how to prepare for a professional music tour are just some of the basic things I learned in a real-life context through my experience with SOA. I use many of those lessons today as a Grammy Nominated Composer and Director of the national non-profit arts education, the F.A.M.E. Foundation."

"My experiences with SOA confirmed in me that music and education were truly my areas of passion. I knew I wanted to make an impact on people like Clyde Barr did every summer. An incredible tour of fun, adventure mixed with a sense of responsibility to myself, my fellow musicians, and knowing that at all times I was representing my family and my country."
Enrique "Hank" Feldman, President and Director of Arts Education,
F.A.M.E. Foundation , and Director of Evolved Learning Conferences,
Hank is President of the F.A.M.E. Foundation (Fostering Arts-Mind Education Foundation) and Director of Evolved Learning, Inc., Hank directs and performs with a tuba and euphonium jazz ensemble, the "ITEC Jazz All-Stars," which performed at the '98 International Tuba-Euphonium Conference in Minneapolis. He also is a 2-Time Grammy Nominated Composer and Artist. Hank is also a film composer - seethe film, Cruzando,
---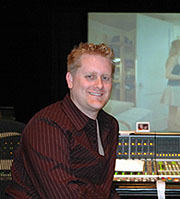 BRIAN RALSTON, SOA 1992, 1993: "Touring with the Sound of America was truly one of the most memorable experiences of my young adult life! From the grand European concert halls and historic cities to performing wonderful music with Mr. Barr and such talented musicians, I can honestly say that the Sound of America and the musical experience it provided had a great influence on my decision to follow my musical passion and make my career in music. I highly recommend to any young musician who has the chance to tour with the SOA to take that opportunity and grab it by the reigns with both hands before it passes you by. You will be an example to the world of some of the best the United States has to offer. You will create music that fuels the soul, memories that will last a lifetime and experiences that will enrich your life forever."
Brian Ralston, 
Motion Picture Musical Composer, Studio 76 Music, California
Brian has composed film music for movies, "9/Tenths" "GRADUATION". He is also an award winning producer, having produced the award winning short film "The Rece!pt", for which he won an Aurora Award for the musical score. MORE INFO
---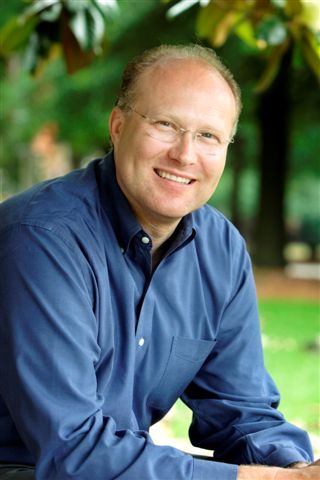 DR STAN ROBERTS, SOA 1980: "Over twenty-five years later and I still consider the 1980 Sound of America tour as THE major experience in shaping both my musical and cultural perspectives. As an unexpected surprise, the tour provided clarity to my musical aspirations and gave early focus to my professional career. Such musical and travel experiences are pivotal for the shaping of young lives and I eagerly recommend the work of the SOA professionals to your consideration! Since 1980 I have lead five concert tours with my university choirs to Europe and without fail I mentally measure the success of each to my 1980 SOA Tour."
.
Dr. Stanley Roberts
Director of Choral Activities at Mercer University, Macon, Georgia
Stan is active as a conductor, clinician and soloist in universities, colleges, churches and schools and has been the Director of Choral Activities and Coordinator of Sacred Music Studies at Mercer University for over twelve years. He directs several choirs, while teaching courses in conducting and sacred music. He has also guest conducted at the GMEA All-State Choral event. MORE INFO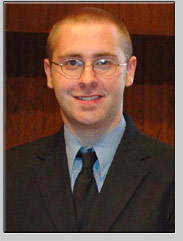 CARL HESS, SOA 1998 "When asked, nearly every professional musician can name an experience that had the most profound impact on their professional and personal life. For me, SOA was that experience. I have had many fantastic musical experiences (and will hopefully have many more), but I must say that SOA was one of the greatest experiences of my life. How many students can say they toured six European countries, performed with a world class ensemble in world class venues, and made friends that will last a lifetime--all in one summer?"
Carl Hess, 
Assistant Director and Professor at Duquesne University, Pennsylvania
Carl Hess has just been given a position on the music faculty staff at Duquesne University in Pittsburgh, PA. He is serving as assistant director of the Wind Symphony, Symphony Band, Orchestra, and Contemporary Ensemble and is also responsible for teaching undergraduate conducting. MORE INFO