2007 SOA Tour Highlights
The 2007 SOA tour was probably one of our best ever! We were happy to have comfortable weather for traveling, well performed and received concerts, great locations, and just great tour members! We were glad to again be hosted by Elizabethtown College during our rehearsal days and Bon Voyage concerts, which brought almost 2000 concert-goers to campus.
Concerts: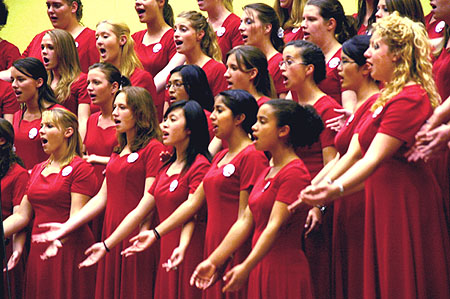 Probably the most obvious news this year was the change in the uniform for the girls. (You'll notice this in our photos.) The dresses made their debut at our concerts at Elizabethtown College and were a big hit at all our performances! It gave us a very professional look.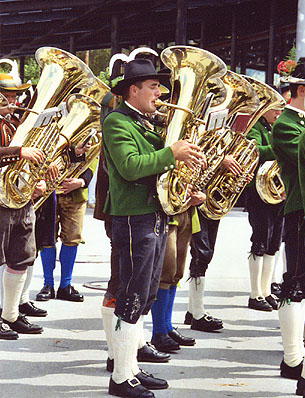 A special experience for '07 members was being invited to perform at a local music festival in breathtaking Leutasch, Austria, where our group was among several musical ensembles from Italy, Germany and Austria, representing the "Tyrolean" areas of these countries. After an outdoor Mass and speeches by the mayors, all the musical groups performed before the marching competition began (for the other bands). Back at the main stage, the Sound of America was the first to perform for not only the locals, but also for the other musicians. SOA received a very warm response from the audience after each piece performed. Additionally, the audience seemed to know the Battle Hymn, and sang and clapped along! We were able to listen to some of the other musical ensembles as we enjoyed local food.
Once again, the choir was privileged to sing in Notre Dame Cathedral, in Paris, and St. Mark's Basilica in Venice; and the entire ensemble performed in the famed, St-Sulpice church of Paris. Our final concert in France was attended by not only the local mayor (as is typical for many concerts), but also the U.S. Consul General in France, Frankie Reed.
Like other years, our audiences gave us enthusiastic responses everywhere we performed! Doug Chalmers, an SOA alumnus from 1982 even came to our performance and sang the Battle Hymn with us in Stresa!

Music performed: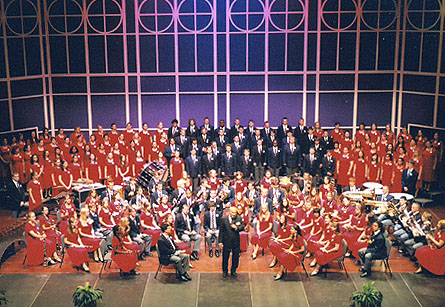 Music performed this year is listed on the Music Page. Goose-bump highlights included the band and chorus selections, written by John Williams for "Saving Private Ryan", entitled, "Hymn to the Fallen", as well as "Praise to the Lord, the Almighty", a European hymn arranged by Mack Wilberg. Also, we performed an arrangement of George M. Cohan melodies from the World War I era.
The choir performed an array of pieces of different genres (featuring composers like Mendelssohn, Whitacre, Copland, etc.), as well as a medley of songs from "Jersey Boys". Our featured soloist this year, was actually a duet ­ Jackie Beardsley (CA) and Rivkah Steele (ID) sang a song from Mask of Zorro entitled, "I Want to Spend My Lifetime Loving You".
The band performed some lively music by Bernstein, Puccini and Hindemith, as well as new music by Philip Sparke, among others. The band's featured soloist was Patricia Kupec (VA) on the marimba playing a piece by Saint-Saens. As usual, the combined musical selections, "The Battle Hymn" and "Stars & Stripes" brought down the house!
The 2007 SOA members represented the United States in a very commendable manner and were well received by the Europeans everywhere!

Veterans organization donates American flags raised at American WWII cemetery: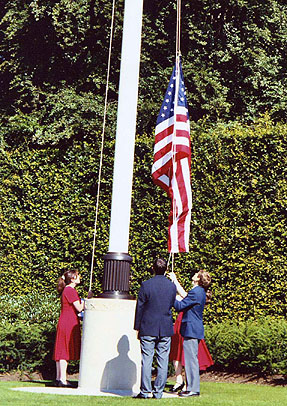 We had the honor of accepting two large American flags at our Bon Voyage performances at Elizabethtown College, thanks to the veterans at American Legion Post #223 from Shippensburg, PA. These former World War II soldiers gave us two hard-to-find special American flags to present at the American WWII cemetery in Luxembourg. After some emotional songs performed by our choir, a small group of SOA members who worked as a "color guard" retired the current American flags and then hoisted the new ones to fly over the graves of over 5,000 of the American soldiers killed in the Battle of the Bulge. It was certainly a memorable moment for SOA members knowing that the "brothers" of those buried there, personally gave us the flags to fly over the cemetery. Following the ceremony, two of our trumpeters performed taps and flowers were placed on General Patton's grave by SOA members who have relatives who had served in the Battle of the Bulge. One of our tour members who served in the color guard found her grandfather's grave and was given documents and a photo for her to bring home to her family. We also received special gifts from a group in Luxembourg called, "U.S. Veterans' Friends". They were so moved by the ceremony that they were brought to tears! Other visitors to see our ceremony was a group of U.S. soldiers who had been wounded in Iraq and were recuperating in a nearby hospital. They came up to our SOA students and shook hands and expressed how much this ceremony meant to them!

Other special experiences: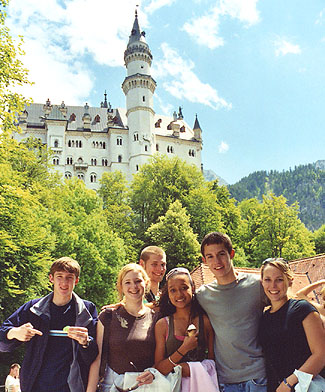 We visited beautiful Luzern for the first time in years, where a number of SOA students eagerly attended the new Harry Potter movie. Just days later, SOA members could be found purchasing the new Harry Potter books like crazy!
This was the first time in almost twenty years that SOA has returned to the amazingly stunning Neuschwanstein castle in Bavaria. Arriving late, due to a traffic jam, students hiked up the huge hill at record speed to start their guided tour! That makes the experience "breathtaking" in more ways than one! We experienced many of the usual highlights such as medieval Rothenburg, enchanting Venice and Verona, relaxing and friendly Stresa, amazing Grindelwald, as well as exciting cities like Innsbruck, Paris, Strasbourg and Luxembourg.
This year's group was 186 tour members strong, plus our drivers (again, Jean, Josy, Amorim and Norbert, with Theo as our truck driver). Among our tour members were eight repeat-SOAers, a daughter of a 1980 alumnus, and a few siblings of past members. We welcomed the addition of a new accompanist, Anna Juliar, an excellent musician from New York state.
LEARN MORE ABOUT SOA:
NEWS / 2013 Itinerary / FAQ's / Directors & Staff / Eligibility / How to apply / Cost & Inclusions / Non-Profit Information / Music / Safety & Security
Special Alumni / Distinguished Alumni Talk about SOA / Testimonials from Past Tour Participants, by state
2012 Highlights / 2011 Highlights / 2010 Highlights / 2009 Highlights / 2008 Highlights / 2007 Highlights / 2006 Highlights / 2005 Highlights / 2004 Highlights / 2003 Highlights / 2002 Tour Highlights / 2001 Tour Highlights / 2000 Tour Highlights / '99 Tour Highlights / '98 Tour Highlights / '97 Tour Highlights /
ALUMNI news / Photo Gallery / Fun websites

updated 10-23-12