Testimonials from former SOA Participants
Please put your mouse over your state and click to see what students from your state have said about their trip with SOA.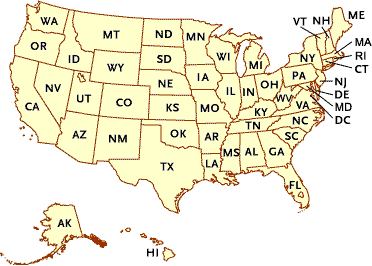 "SOA gave us the keys to the world and in many cases, . . . helped to shape our destiny. I, for one, will always be grateful for that." - Tina Stixrude, alumnus and Foreign Service Officer at a US Consulate, Africa
The connecting pages offer some unsolicited comments written by past tour participants after their tour with Sound of America. Learn what others from across the country had to say about their experience with the Sound of America Honor Band and Chorus.
"I (and others) were knocked out by your concert! Everybody was so professional and slick, there was a need to constantly remind oneself that we were actually talking about amateurs here! It was a rare delight to receive such a mass display of good manners from all the participants after their performance, and their old-world courtesy when interacting with the audience was a great pleasure in this day and age. They made fine ambassadors for your country, generating an enormous amount of goodwill!" - Ken Hyde, England (audience member at the Grindelwald concert)
- - - -
"Their behavior and decorum were a tribute and fine representation to this great country of ours. These kids from throughout the United States singing and playing (music) throughout western Europe over a three week period. Yes, they had chaperones, but were also self-disciplined and highly motivated. I am proud to call them fellow Americans. They will make a difference in making this world a better place." - T. Hranek, passenger on our flight returning to the US, also father of Dad of 2 Army Sergeants and an ROTC Cadet

LEARN MORE ABOUT SOA:
NEWS / 2013 Itinerary / FAQ's / Directors & Staff / Eligibility / How to apply / Cost & Inclusions / Non-Profit Information / Music / Safety & Security
Special Alumni / Distinguished Alumni Talk about SOA / Testimonials from Past Tour Participants, by state
2012 Highlights / 2011 Highlights / 2010 Highlights / 2009 Highlights / 2008 Highlights / 2007 Highlights / 2006 Highlights / 2005 Highlights / 2004 Highlights / 2003 Highlights / 2002 Tour Highlights / 2001 Tour Highlights / 2000 Tour Highlights / '99 Tour Highlights / '98 Tour Highlights / '97 Tour Highlights /
ALUMNI news / Photo Gallery / Fun websites

updated 10-23-12