Highlights from the 1999 Sound of America Concert Tour of Europe
This year The Sound of America Honor Chorus presented a half-hour performance inside the beautiful Notre Dame Cathedral of Paris. It was an amazing experience for everyone, especially the choir members and director, Dr. Stephen Ausmann. Another very moving experience was performing in the evening mass in the historical basilica of San Marco in Venice, where SOA choir members had their first chance to hear their voices continue to reverberate within the five domes of the ancient basilica for a good 5-7 seconds.
Equally enjoyable for all the musicians were the extremely well attended concerts in La Chaux-de-Fonds, Switzerland; the sold-out concert in Luxembourg city, Luxembourg, the capacity (standing room only) crowd in Stresa, Italy, and our concert in Strasbourg, France, attended by over 2000 guests. The other concerts were well received and at some locations students and directors were given gifts of appreciation. The standing ovations at every concert and rhythmic clapping were perhaps the most memorable "gifts" of all.
Finally, we must tell you about an exciting concert for us all. It was the first appearance for the Sound of America in the church of St. Roch, in Paris. This gorgeous church enhanced our performance by flood-lighting all parts of the overhead arches so that the paintings, ceiling artwork, and sculptures shone brilliantly. It was an honor to present our concert there and before such a warm audience. A regular St. Roch concert-goer claimed that the standing ovation we received was not only rare, but perhaps the most instantaneous she's ever seen at St. Roch! We are told that some Parisians are still talking about our concert!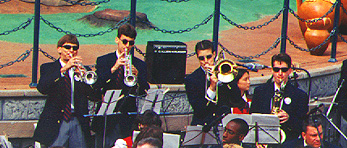 Part of "Combo"
Our concerts featured works by Van Der Roost, Rossini, Purcell, K. Shaw, just to name a few. Vocal soloists Joyce McCoy and Logan Yost, both from California performed songs from "Phantom of the Opera". Blair Robertson and Matthew Williams, both from Kentucky, performed an amusing duet by Rossini, "Dueto buffo de due gatti".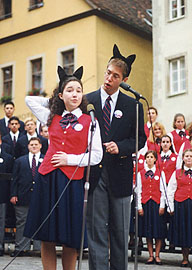 Our featured instrumentalists included trumpeters Mike Piccione (MD), Todd Borges (CA) and Casey Godelfer (LA) on "Buglers' Holiday". We also had two combos that accompanied the chorus, Chris Moore (AR), Todd Borges (CA), Mike Piccione (MD), Doug O'Connor (MD), Shane Fox (PA), Jason Schwartz (NJ), Christy Kuiken (ID) and Rose Connett(CO).
Thanks to a great group of students and wonderful chaperones for a successful trip!
"Due Gatti"
LEARN MORE ABOUT SOA:
NEWS / 2013 Itinerary / FAQ's / Directors & Staff / Eligibility / How to apply / Cost & Inclusions / Non-Profit Information / Music / Safety & Security
Special Alumni / Distinguished Alumni Talk about SOA / Testimonials from Past Tour Participants, by state
2012 Highlights / 2011 Highlights / 2010 Highlights / 2009 Highlights / 2008 Highlights / 2007 Highlights / 2006 Highlights / 2005 Highlights / 2004 Highlights / 2003 Highlights / 2002 Tour Highlights / 2001 Tour Highlights / 2000 Tour Highlights / '99 Tour Highlights / '98 Tour Highlights / '97 Tour Highlights /
ALUMNI news / Photo Gallery / Fun websites

updated 10-23-12