Welcome to The Sound of America Honor Band and Chorus Official Website!
The Sound of America Honor Band & Chorus News Page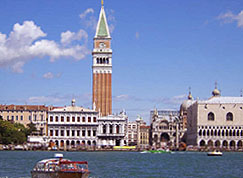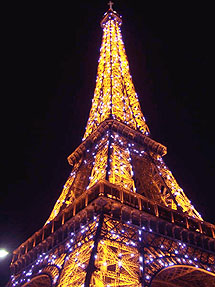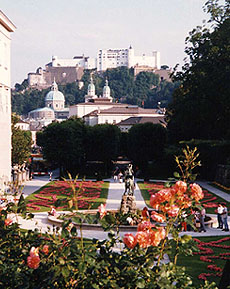 NEWS & ANNOUNCEMENTS (updated 5-14-13)
Click on a box below
Do you have an unforgettable summer planned forn next year? Join other fine musicians in coming together to create and share music in Europe!
We still have openings in some sections! Contact SOA if you'd like to receive your own brochure and invitation! This is a life-changing, meaningful experience that you shouldn't let pass you by! This is a great time of year to apply! Most sections still have openings. If you have this July available, if you enjoy working hard to create beautiful music, want to explore Europe with new friends from around the country, if are willing to work with others to make the tour rewarding and special for everyone, and you want to have probably the best summer of your life, then apply!
Not sure? We strongly encourage you to contact us to request contact information of recent tour members from your area. No one can better attest to the SOA musical tour experience better than our past members. We'd be happy to put you in contact with some past SOA members! Don't be hesitant to call them - we think they'll be thrilled to tell you about their experience!
Please note that at this time, the soprano voice, oboe, bassoon alto sax, euphonium, and percussion sections are currently at capacity. We have alternate status lists for those sections.
We are particularly looking for more talented male vocalists - tenors and basses.
Although at least 1-2 openings exist in some other band sections, we are currently looking in particular for more applicants in these sections: flutes, clarinets, bass clarinets, trumpets, French horns, trombones and tubas.
It is important that all persons interested in this summer's tour, apply or inquire immediately.
Look around this website. View past participants' testimonials, look over the itinerary, and inclusions.
To see what the Sound of America program is like - check out our Photo Galleries. Here you can view more about our concert experiences, the locations we visit, and some of our past tour members in enjoying Europe.
Look around on the internet for amatuer video clips on youtube of our concerts, or visit our page on facebook.. But most importantly - ask us for a short listing of some past tour members from your area, and let them tell you first hand, about their experience with our program. It's a chance for students and parents to ask some questions from someone who has traveled as a tour member.
Also check out these important pages: Professional Musicians discuss SOA / Special Achievements of Alumni
Tour members, please consider taking out Travel Insurance. You can apply for the insurance on-line by clicking on the link box here. Be sure your passport is expedited, if you haven't yet applied for it. Be sure to order your uniform ASAP. Phase IV to come soon!

SOA 2012: What a great trip! Thank you all for your hard work, for your positive attitudes and presentation of yourselves. We hope you have all had the most memorable and meaningful summer ever! You have continued the SOA tradition of providing positive and remarkable musical productions to thousands of American and Europeans. Post Tour orders are being sent to you, today, August 17th by email. Shirts are photos are being mailed in mid/late November. Look for yours to arrive soon -
2011 TOUR MEMBERS: Wonderful trip! Thank you to all tour members for being good representatives of our country, for being wonderful, focused musicians, and for having a great attitude! Each tour member helped make it a smooth trip! Chaperones, crew members, dancers, translators, staff, and all musicians . . . your efforts made a huge difference! It was one of the best tours ever! Congratulations! We hope it was a time you'll treasure forever!
Students are finding the student-run facebook page interesting - from comments from students, parents and concert-goers. http://www.facebook.com/pages/The-Sound-of-America-Honor-Band-Chorus/28128585576 or http://www.facebook.com/home.php#!/pages/The-Sound-of-America-Honor-Band-Chorus/28128585576.
Also, the Hotel Reichs Kuchenmeister, in Rothenburg, has posted a bunch of photos that were taken of our concert. http://www.facebook.com/reichskuechenmeister.
Here is an article from the concert in St. Germain-en-Laye.
Here is a link that was sent to us from the American Cemetery in Luxembourg, featuring photos of you! (You'll need to scroll down.)
SOA 2010 TOUR MEMBERS
2010 SOA on TV News Story - on well respected, RTL (Radio Television Luxembourg): Click here to view a news story, featuring SOA at the American WWII cemetery in Luxembourg, televised in mid-August, 2010. Be patient - it takes a few minutes to load and it starts with about a minute's worth of advertisements.
Thank you for a wonderful tour! It was hot! The first two weeks were some of the hottest days we've ever experienced! But, we got through with no major health issues and no lost passports! Some concert goers thought this year's performances were among the best ever! .
2009 TOUR MEMBERS :
Have you seen your photos in the 2009 Photo gallery? When you click on the link, it will send you to another site. The best way to view it is by clicking on "slide show".
Click here to see the poster from St Germain-en-Laye.
Article about our concert in this newsletter.
Rothenburg Newspaper article Here is another webpage from Rothenburg with more photos
The following link has a number of photos taken while at the US Cemetery in Luxembourg. It was brought to our attention by the Luxembourg's Friends of US Veterans. Photos are on the right and you can see they've had some ceremonies since we've been there - for veteran's day, and other dignitaries, etc. You'll need to scroll down in that window to July's events - it will say 25 July Sound of America.
2008 SOA TOUR MEMBERS: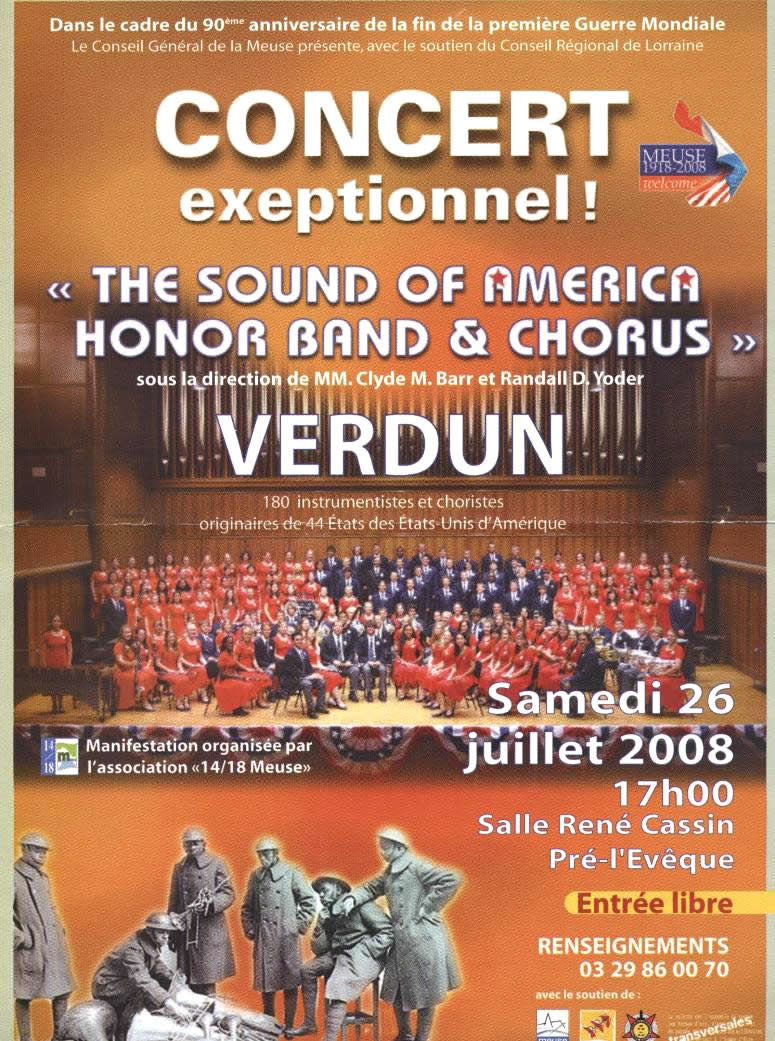 VERDUN VIDEO online: Check out this LINK on YouTube, put up by a videographer in France. (As you know, other videos are on youtube.com, uploaded by other students.)
Your talents were so appreciated by the audiences and we have received so many nice compliments! This was the first time SOA has ever visited (and sang in) the gorgeous Mondsee church, where the Sound of Music wedding took place! It was also the first time to the Meuse region of France - (Verdun) - where we were treated so well by the French people who seemed so grateful! It was an honor to have been given American flags from US Veterans' associations, to present to their fallen brothers in both the World War I Cemetery near Verdun (largest American cemetery outside of US) and the World War II Cemetery (where Patton is buried) in Luxembourg.
We hope you all enjoyed the fun, the sites, the friendships and performances and all the memories that make the SOA 2008 tour unique and unforgettable! We had wonderful audiences throughout the trip. Some extraordinary audiences not to be forgotten: Cortina, Stresa, La Chaux, Luxembourg and Verdun, among others!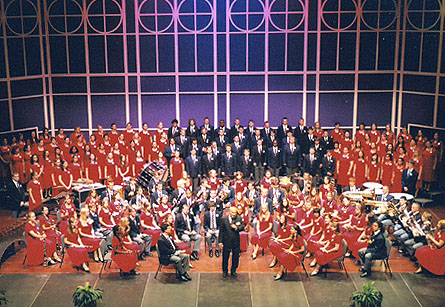 Enjoy these newspaper links about our concerts!
GRINDELWALD - ROTHENBURG - ELIZABETHTOWN - LUXEMBOURG

See photo gallery for 2008 photos!
Sound and Light show - Des Flammes a la Lumiere: www.youtube.com/watch?v=z_SlkFp3vKs
2007 TOUR MEMBERS:
We are way behind DVD production, as we're now working on 2006. Keep us in touch with your current e-mail address and mailing address!
2006 Alumni:

Lindsay Pearce will be one of the twelve cast members on Oxygen TV's reality TV show,"THE GLEE PROJECT". The Glee Project" finds and trains a group of extraordinarily talented performers, who vie for a seven episode guest starring role on "Glee." From thousands of entries, and an exhaustive nationwide talent search, the series uncovers a unique group of artists with both professional and amateur backgrounds, proving every underdog has a fighting chance at stardom. Sundays starting June 12th. 9/8 central. http://thegleeproject.oxygen.com/
http://insidetv.ew.com/2011/04/29/the-glee-project-cast-exclusive/?fb_ref=ewcontent&fb_source=profile_oneline
http://thegleeproject.tumblr.com/
Lindsay says: "The Glee Project was a huge opportunity, and SOA was a stepping stone for me to gain the confidence I needed to become a performer, so thank you! SOA changed my life!"

Thanks for an exciting trip! It was one of the hottest ever, but amazingly enough, we had fewer health problems! We're tough! CD's are still available. DVD's are behind schedule. Keep us updated with your current address and e-mail addresses by contacting us or submitting your information on the alumni page. Contact us for any questions.
Consider joining us again!  We are currently working on the  2006 DVDs - please be patient - we know you are anxious.  Keep us up to date on your e-mail and mailing addresses!
to the top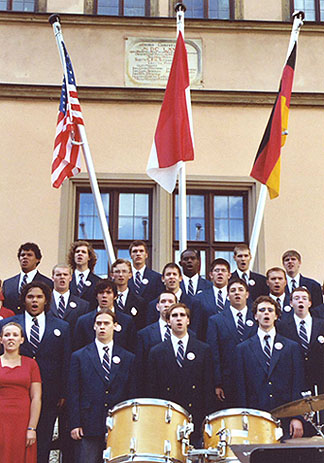 SOA ALUMNI PAGES ON-LINE!

ALL ALUMNI - Click here to see news about SOA and other alumni!

Would you be interested in purchasing your year's recordings on CDs, which were previously only available on tape or album? Give us your input. We are considering these options, but we need more interest to make it feasible.

To All Alumni:

We are looking for more talented musicians for 2013- you may contact us with referals! Please think about joining us again or recommending a talented student to us. Keep us posted on your address and phone number and e-mail address - by submitting your Alumni Form on-line. Otherwise, just stay in touch by e-mail.Visit our alumni pages!

FUNDING for our non-profit organization is very needed!

Can you help? The Sound of America is looking for help in funding its program. We are a non-profit organization, registered with the IRS under 501(c)3. Corporate and individual donations are requested in helping to maintain the existence of this music enrichment youth program. Please contact us to make a donation to the Sound of America Honor Band & Chorus. You may also call us at 717 245 2826. Click here for more info on how to donate on-line or by mail/fax.

to the top

A Patriotic Tribute Compact Disc (for sale)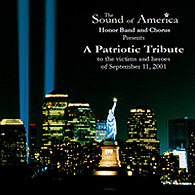 To honor the heroes and victims of Sept. 11
This CD features patriotic selections from recordings of SOA concerts taken over the past 16 years.
It is dedicated to honor those directly affected by the attacks of last September. All proceeds of these CDs go to Engine 6 Fire Department of New York City and the families of its lost firefighters. Contact SOA to inquire about remaining CDs. Read about SOA's efforts to help Engine 6
click to enlarge CD cover photo
We invite you to visit the website of NYFD Engine 6. This small fire engine company is located very close to the WTC area. As the firefighters arrived at the scene, helping others, the towers collapsed and this department lost 4 of it's 5 firefighters on duty that day. Please take some time and learn about their experiences by going to their website.
Firefighter Bill King of Engine 6 attended our concerts this summer and you can read about it in their column under "Past Events". There is another article under "Past Events" about SOA giving the donated monies to Engine 6 Lt. Bobby Ryan.
to the top

INFO FOR EVERYONE
Some tour members were interested in learning more about the American Cemetery in Luxembourg. Please follow these links:
American Military Cemetery in Luxembourg
Main Page of AMERICAN BATTLE MONUMENTS COMMISSION
To find a casualty of WW II by name
TRUMPETERS: As WWII veterans are rapidly becoming fewer, there is great demand for buglers to play taps at funerals. Because the demand is so high, some ceremonies are performed with a fake bugler with a pre-recorded "Taps" inside the horn. Volunteer at this site: Bugles across America.
Contact us:
The Sound of America
50 Brookwood Ave.
Carlisle PA 17015
Tel: 717 245 2826
Fax: 717 245 9822

LEARN MORE ABOUT SOA:

NEWS / 2013 Itinerary / FAQ's / Directors & Staff / Eligibility / How to apply / Cost & Inclusions / Non-Profit Information / Music / Safety & Security

Special Alumni / Distinguished Alumni Talk about SOA / Testimonials from Past Tour Participants, by state

2012 Highlights / 2011 Highlights / 2010 Highlights / 2009 Highlights / 2008 Highlights / 2007 Highlights / 2006 Highlights / 2005 Highlights / 2004 Highlights / 2003 Highlights / 2002 Tour Highlights / 2001 Tour Highlights / 2000 Tour Highlights / '99 Tour Highlights / '98 Tour Highlights / '97 Tour Highlights /

ALUMNI news / Photo Gallery / Fun websites

Last updated: 5-13-13