2003 Sound of America Concert Tour Highlights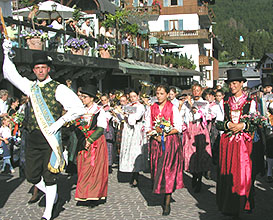 Despite world events and the falling value of the US Dollar the 2003 Sound of America Tour was very successful! We are grateful that we had wonderful tour members, faithful leadership and enthusiastic audiences! In many ways, it was one of our best tours ever!
All previous concerns anyone had before going to Europe were long forgotten as soon as we reached Europe. We had such warm and receptive audiences, (despite heat, hail, and recent (mis)perceptions about the Europeans' attitudes towards Americans), that students felt very welcome. Our SOA group was proud to have participated in a positive way to help create better relations and understanding between our continents. Music is truly the universal language. Traveling internationally opens minds, broadens horizons and so much more. Representing the U.S. in such a positive manner is certainly something of which we are proud.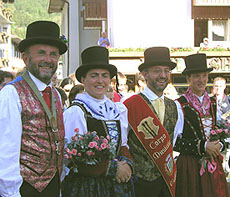 Some of the highlights of the 2003 SOA tour included a special welcoming by the local Cortina band for our concert. We felt honored and special that these musicians, dressed in local costumes, came out to perform for us. (Photos above, and to the right)
We were happy to welcome back Dr. Stephen Ausmann again this year as our choral director. He brought with him a talented musician, Adam Roberts, who served as our accompanist and choreographer.
The concerts in Paris, Luxembourg and Strasbourg were wonderful and the audiences very enthusiastic. Although we were lucky to miss the extreme heat in Europe, it still was a bit warm. At the Strasbourg concert, the temperature must have been 100 degrees, but the crowd stayed and applauded, cheered and whistled to levels of audio distortion! In Paris, even some distinguished members of the US Embassy and French Air Force band attended our evening concert. The Musica Theatre in La Chaux-de-Fonds was closed for renovations, but despite a terrible rain storm and 10 minutes of hail, we still had a nice crowd in a local temple. The Stresa concert was packed! We even had a wonderfully large crowd for the choir's performance in Notre Dame Cathedral. The choir was fortunate to also sing in St. Jakob's in Rothenburg and St. Mark's in Venice, as well as impromptu concerts in Wieskirche, Verona's Coliseum and the Borromeo Palace on Isola Bella. The band featured it's sax section in one of it's pieces, by Perez Prado, "Mambo Jambo". Even choreography was involved! To view our other repertoire, go to Past Repertoire page - the top selections in each category are this year's pieces.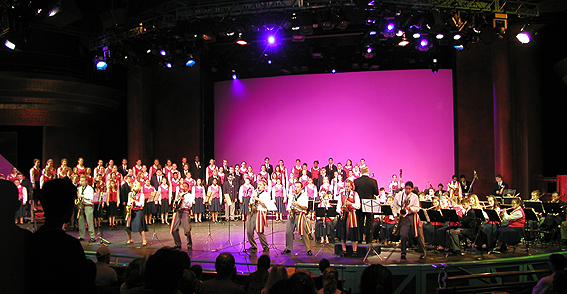 click to enlarge concert photos
LEARN MORE ABOUT SOA:
NEWS / 2013 Itinerary / FAQ's / Directors & Staff / Eligibility / How to apply / Cost & Inclusions / Non-Profit Information / Music / Safety & Security
Special Alumni / Distinguished Alumni Talk about SOA / Testimonials from Past Tour Participants, by state
2012 Highlights / 2011 Highlights / 2010 Highlights / 2009 Highlights / 2008 Highlights / 2007 Highlights / 2006 Highlights / 2005 Highlights / 2004 Highlights / 2003 Highlights / 2002 Tour Highlights / 2001 Tour Highlights / 2000 Tour Highlights / '99 Tour Highlights / '98 Tour Highlights / '97 Tour Highlights /
ALUMNI news / Photo Gallery / Fun websites

updated 10-23-12