Some highlights from the 1997 tour:
Performance for Hillary and Chelsea Clinton: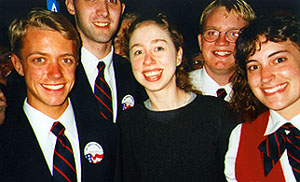 The tour was highlighted this year by an impromptu performance for the First Lady of the United States, Hillary Clinton and First Daughter, Chelsea, in Salzburg, Austria. Because of security purposes, they could not attend our scheduled concert, but seemed to be quite happy for their personal performance later that evening. Chelsea personally greeted many of the tour members. The American Ambassador to Austria was also present. It was an honor for all tour members and probably one of the most exciting highlights in SOA history.
Roses from Rothenburg: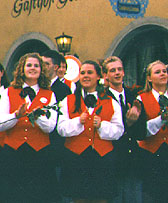 As always in the past, our concert in Rothenburg, Germany attracted a large and very friendly audience. Gifts were presented to directors Clyde Barr and Stephen Ausmann from the Tourist Office of Rothenburg. Additionally, this year each female SOA member received a long-stem rose as a gift of appreciation from the local hotel association.
Swiss Honorary Award:
Five tour leaders, Clyde Barr, Lyn Barr, Terri Barr-Marks, Bill Brandt and Mabel Brandt were awarded a special honorary status in the alpine town of Grindelwald, Switzerland. The framed certificate given to each individual indicated the loyalty to this town, each having had visited it 20 times.
Full House in Luxembourg:
The Sound of America Honor Band and Chorus presented its final concert in the finest concert hall in Luxembourg. This is the venue where many of the major music organizations of Europe choose to make their professional recordings. Unfortunately, many people had to be turned away as SOA performed to a full house that evening. Several encores were performed for the enthusiastic audience.

LEARN MORE ABOUT SOA:
NEWS / 2013 Itinerary / FAQ's / Directors & Staff / Eligibility / How to apply / Cost & Inclusions / Non-Profit Information / Music / Safety & Security
Special Alumni / Distinguished Alumni Talk about SOA / Testimonials from Past Tour Participants, by state
2012 Highlights / 2011 Highlights / 2010 Highlights / 2009 Highlights / 2008 Highlights / 2007 Highlights / 2006 Highlights / 2005 Highlights / 2004 Highlights / 2003 Highlights / 2002 Tour Highlights / 2001 Tour Highlights / 2000 Tour Highlights / '99 Tour Highlights / '98 Tour Highlights / '97 Tour Highlights /
ALUMNI news / Photo Gallery / Fun websites

updated 10-23-12