2010 Sound of America Highlights
Be sure to check out the 2010 Photo Gallery for a photographic visit on our 2010 Tour!
We were glad to have choral conductor extraordinare, Dr. Nancy Klein, from Old Dominion University (Virginia), again with us on tour with perenial Mr. Clyde Barr, always demanding precision from the band. Concerts were met with enthusiasm and friendly audiences. Some concert-goers thought it was the best group ever, but the musical ensembles are always comprised of talented and determined students, under the direction of conductors who pay attention to every note and phrase.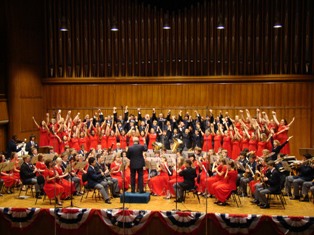 CONCERTS: Without a doubt, students and audiences alike went crazy over a contemporary composition performed by the band and choir together, "Praise You", arranged by Bradley Knight. This piece incorporated celtic styles with modern drum line and sacred text. Soloist Jackie McCarthy, from Louisiana, sang like a siren while the choir chanted in two and the band played in a meter of triplets. Standing ovations abounded! Other choral pieces included "Rattle on the Stovepipe", Eric Whitacre's "Lux Aurumque", "Alexander's Ragtime Band:, and "All that hath Life and Breath". Featured vocal soloist was Kelton Washington, from Texas, who sang, "I'll Know" from Guys & Dolls. Band highlights included "Backdraft", "El Relicario", "Procession of Nobles" and some clever arrangements of familiar tunes. The combined numbers also included Mulholland's inspiring arrangement of "America the Beautiful" and a Richard Rodgers medley. Overheard at the concerts: "wunderbar", "danke", "bravo/bravi", "complimenti", "formidable", "super"! For a complete listing of pieces performed, check our past repertoire page.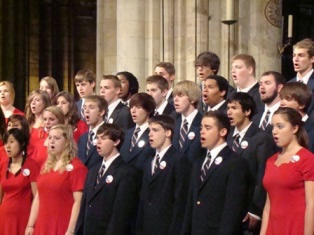 TOUR: The tour went very smoothly. The weather was generally good - but very, very hot! Even Germany and Austria measured temperatures above 100 degrees! Students were offered handmade bookmarks containing real edelweiss from a fan from the Italian Alps. SOA members enjoyed the quaint medieval town of Rothenburg, surrounded by ramparts; Salzburg, the town of Mozart and The Sound of Music; riding down the Alpine slide, visiting a water fall; byzantine Venice and it's gondolas and canals (and the privilege of singing in St. Mark's Basilica); taking boats to Isola Bella in lovely Stresa to visit the palace and gardens; and taking in the fresh mountain air of Grindelwald, where tour members took the 30 minute cable card ride, ice skated and hiked. Not to be overlooked: the glamour of Paris and the historic palaces of the Louvre and Versailles, as well as going up the Eiffel Tower at dusk - and the choir's performance in Notre Dame Cathedral and a combined concert, that was very well received, in St Germain-en-Laye, near Paris. View three newspaper articles about our concerts: Rothenburg, Luxembourg, St-Germain-en-Laye. The St Germain link seems to be down - but here is some info on another site - although it's 2009's concert:
TOUR GROUP: There were 39 different states represented on tour this year, including a few students or relatives of former SOA tour members. As always, we had wonderfully talented veteran SOA European drivers and dedicated staff members. Many alumni came to the Bon Voyage concerts at Elizabethtown and some former drivers and guides came to our Luxembourg concert. Mayors and other officials were also in attendance at several of our concert venues.

Some amateur videos have been uploaded to YouTube by our students or parents. 2010 SOA European Tour was memorable and uplifting experience for all!
SOA Makes National Television in Luxembourg:
(click on RTL button to view)
Finally, the day after our final concert in the magnificent Music Conservatory of Luxembourg, where we were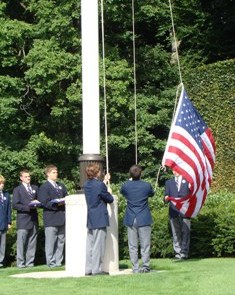 presented with beautiful flowers and standing ovations, we toured the American World War II cemetery. SOA was given the honor and opportunity to present and raise two new American flags, donated American Legion Post #223, from Shippensburg, Pennsylvania. Also, members of the Luxembourgish association, "Friends of US Veterans", presented several of our students, who had close family members serve in the Battle of the Bulge, gifts for them to take home to their families. Our time at the cemetery, to sing, reflect, honor, play taps, raise new flags, and to hear about the stories of what took place in the region, made it an emotional and memorable experience for all. The Sound of America was featured in a news story that was aired on the main television channel of Luxembourg, RTL. Please click this link, http://tele.rtl.lu/magazin/reportage/show/?v=24089, or click on the icon above to see the report. It is in Luxembourgish, but the visual coverage is nice to see. Please note there is about 70 seconds of advertisement before the report begins.
LEARN MORE ABOUT SOA:
NEWS / 2013 Itinerary / FAQ's / Directors & Staff / Eligibility / How to apply / Cost & Inclusions / Non-Profit Information / Music / Safety & Security
Special Alumni / Distinguished Alumni Talk about SOA / Testimonials from Past Tour Participants, by state
2012 Highlights / 2011 Highlights / 2010 Highlights / 2009 Highlights / 2008 Highlights / 2007 Highlights / 2006 Highlights / 2005 Highlights / 2004 Highlights / 2003 Highlights / 2002 Tour Highlights / 2001 Tour Highlights / 2000 Tour Highlights / '99 Tour Highlights / '98 Tour Highlights / '97 Tour Highlights /
ALUMNI news / Photo Gallery / Fun websites

updated 10-23-12