Highlights from 2012 Sound of America Tour
We are so happy to say that we had another successful tour this past summer! Wonderful students from 41 different states grew together musically and emotionally. Thanks to prepared student musicians, who were willing to work very hard on campus, combined with the direction and demand of the conductors, Dr. Nancy Klein and Clyde Barr, their musical performances impressed audiences everywhere! The directors know not only how to work with young people, but to push them to the next level so they sound professional.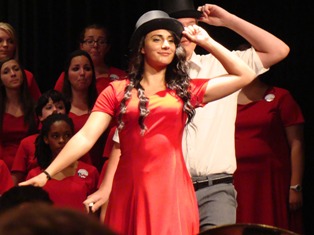 Concerts:  Among some of the highlights was a new concert venue in Fontainebleau, France, where the mayor and personnel of the U.S. Embassy welcomed SOA with warmth and enthusiasm. As usual, the audiences at all the concerts gave standing ovations, or requested encores. Stresa's concert hall was being used by an international conference, so, the Regina Palace hotel generously offered one of their beautiful ballrooms, which seated several hundred people.  However over a hundred others had to stand around the sidesof the room or hallways to hear the concert.  Additionally, as can be expected, the choir's performances in two of Europe's most venerable cathedrals, Notre Dame of Paris and Basilica of San Marco of Venice, were beautiful and memorable opportunities. Goose bumps were common, especially when the choir's voices resonated for several seconds after finishing a phrase.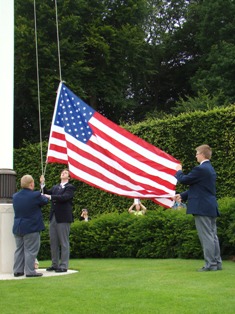 Honoring those who fought:  Perhaps one of the most meaningful moments was the morning spent in the Luxembourg-American Cemetery, where the superintendent and staff members welcomed SOA members.  Cemetery staff and members of "Friends of US Veterans" greeted us  all, and offered gifts to those who had relatives involved with the Battle of the Bulge.  SOA members presented flowers at the grave of General George S. Patton, on behalf of all the fallen soldiers (over 5,000 in this cemetery). SOA members honored the soldiers with a musical presentation.  Taps was performed by SOA trumpeters.   New US flags, donated by Donald Barriger, father of Kim Fong, (SOA '07), were raised during our special ceremony.  To thank SOA and Mr. Barriger, a flag that had flown above the American cemetery was given to SOA to give to him.   He is donating the flag during a special ceremony to the Gen. George S. Patton Museum of Leadership in Fort Knox, KY.  SOA members also got to hear a special story recounted by a young local Luxembourger, concerning what life was like during the Nazi occupation, and the freedom restored by the American and Allied troops.
The Tour: SOA 2012 members were among the few people that have ever flown the largest passenger plane in existence, the Airbus A380!  The aircraft is similar to a 747, but with a full upper and lower deck.  Modern amenities and good service were enjoyed.  Some other highlights include walking up the Eiffel Tower! Yes - we did it! With one of the two main elevators broken for months, it was decided it would be best to climb the 700+ steps to the 2nd level (not the top) - and surprisingly, the students loved it!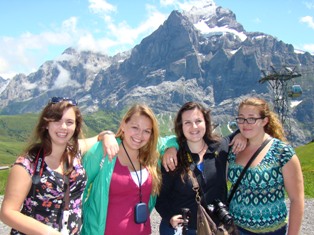 As always, students enjoyed Italian pasta, thin-crusted pizzas, gelato, schnitzels, rosti, escargot, goulash, nutella, quiche and crepes on their free time.SOA members missed the heat wave going on in the US. Instead, they played in snow in the Alps, ice skated in Switzerland, and slid down giant slides in the salt mines.  Students also enjoyed the twists and turns of an alpine slide, swam in lake Maggiore, walked ramparts surrounding a medieval town, and took a cable car ride (and zip-lined) in one of the most breath-taking places in the Alps!  On a more cultural side, students explored Salzburg's 11th century fortress, Mozart's birthplace, visited a coliseum from the 1st century AD, explored Venice by gondola, visited famous art and other museums, and were given special guided tours of different cities filled with history and character. We have no doubt our students learned so much and grew into more worldly and mature young adults . . . and had fun!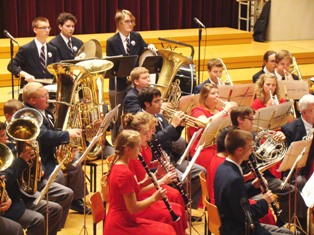 Music:  The complete musical repertoire can be found on the Past Repertoire page. Favorite pieces in this past year's combined band & chorus repertoire included, the beautiful "When You Believe" from the Prince of Egypt, Irving Berlin's "America", and the touching "Song for the Heroes".   Band pieces included "Bravura", Richard Rodgers' "Victory at Sea".  Two alumni trumpeters were featured as soloists: Chris McKee played "The Debutante" and Kari Hostetter played "Valdres".  The choir's presentation included "Choo Choo Ch'boogie", "Shut De Do" and Victoria's "O Magnum Mysterium", among others.  Featured vocal soloist was Austin Palmer from NC, singing "Come Fly with Me", with is own accompanimenton ukulele. 
NEWS / 2014 Itinerary / FAQ's / Directors & Staff / Eligibility / How to apply / Cost & Inclusions / Non-Profit Information / Music / Safety & Security
Special Alumni / Distinguished Alumni Talk about SOA / Testimonials from Past Tour Participants, by state
2013 Highlights / 2012 Highlights / 2011 Highlights / 2010 Highlights / 2009 Highlights / 2008 Highlights / 2007 Highlights / 2006 Highlights / 2005 Highlights / 2004 Highlights / 2003 Highlights / 2002 Tour Highlights / 2001 Tour Highlights / 2000 Tour Highlights / '99 Tour Highlights / '98 Tour Highlights / '97 Tour Highlights /
PHOTO GALLERY / Fun website links / ALUMNI news /
page created 9-20-12 tlb
modified 11-5-13