2013 Sound of America Tour Highlights
This past summer, 144 new SOA members from across the country, came together at Elizabethtown College to work hard for several days to produce high-quality musical performances in Pennsylvania and throughout Europe.  This was the 37th consecutive year for the Sound of America program.  With over 10 alumni returning, (including some chaperones), a daughter of a former tour member, and several music students of former tour members, the legacy continues . . .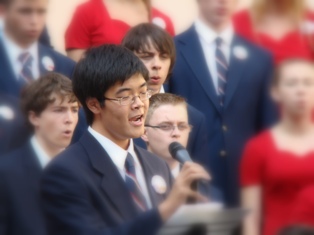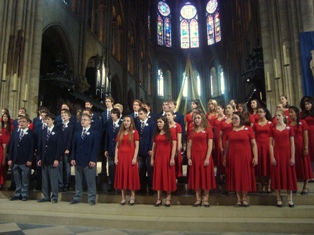 CONCERTS & MUSIC: Audiences enjoyed a variety of music chosen by the directors, which expressed some of the best talents ofthe ensembles.  This included a number of soloists in a big hit musical production of "Les Mis" and a stunning performer on clarinet, Jeremy Chen (SC), in "Introduction, Theme and Variations" by Rossini.  Additionally, two Swahili inspired choral pieces livened up audiences, featuring two vocalists from Maryland, in "Amani" and "Baba Yetu".  "Bandstand Boogie" was much loved by European Audiences as it featured '50's style choreography.  Although the Europeans loved hearing their beloved "Nessun Dorma" and "The Florentiner March", performed by the band, they could be seen tapping their feet, and on a few occasions, dancing to the band's performance of "Glenn Miller Medley".   Combined band and choir selections, including some familiar patriotic pieces, were warmly received by audiences in the United States and across Europe.
STAFF: As always, the students really enjoyed the musical instruction of the conductors, Mr. Barr and Dr. Klein, despite the long hours of rehearsals at the college.  This year, honor band director, Mr. Clyde Barr, invited former student, Reggie Richwine, to join the tour as assistant conductor.  Reggie is the former director of Northmont High School, (OH) and still sought after as a trumpet player.  Ali Allerton (CT) returned as SOA's choral assistant, accompanist and choreographer.  Faithful SOA European motorcoach drivers Jean, Josy, Norbert and Fons returned again, as well!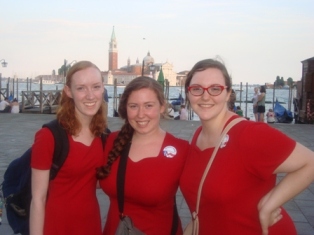 EDUCATIONAL & MEMORABLE EXPERIENCES: Students enjoyed exploring the ramparts of the 16th century village of Rothenburg ob der Tauber, and many climbed the tower, visited museums and gardens in this story-book town.  Although the buildings in the Marktplatz were under scaffolding, the town had covered the buildings with artistic representations of the same buildings.  Another highlight, also in Bavaria, was visiting King Ludwig's fantasy castle, Neuschwanstein.  One of the most enjoyable evenings was the Tyrolean Evening of local Music and Dance presented to SOA members in Innsbruck.  Cortina was not only a nice place for the students to get spectacular views of the Dolomite mountains from the cable car, while others tried skating in the Olympic skating rink.  Cortina was the only place we saw rain, and boy did we see it after our evening concert!
Students marveled at small orchestras playing on St. Marks Square in Venice at night, and the next day, enjoyed a tour, witnessing glass blowing, and some free time to take a gondola ride and go up the Campanile tower.  The SOA Choir once again brought goose bumps to many, during the afternoon Mass in the historic St. Mark's Basilica.  Also in Italy, SOA members had fun singing in the 2000 year-old Roman Arena in Verona, and seeing Juliet's balcony.  Stresa is the town of breath-taking beauty, set along a lake with palm trees and mountains.  Taking a boat to the island of Isola Bella to explore the duke's palace and gardens proved unforgettable. Concert seating was at full capacity in Stresa.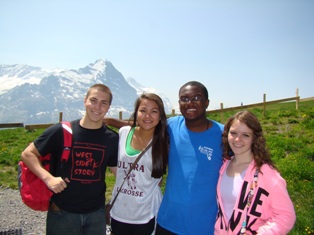 Grindelwald is a gem nestled in the Swiss Alps, where students enjoyed hiking out to a glacier lake, zip-lining, and picnicking in this spectacular setting.  La Chaux-de-Fonds was as an amazing concert experience for all. 
SOA members enjoyed visiting Fontainebleau, where our concert was attended by local dignitaries and personnel of the American Embassy.  To thank the SOA members for their concert, the town of Fontainebleau offered a visit to the "hunting lodge" of the French kings.  This chateau is not only enormous, but each room is ornately decorated and furnished!  Students of course were looking forward to Paris, and they were not disappointed, as they ascended to the Eiffel Tower summit, enjoyed a river cruise taking them by historic landmarks, took in history during a guided tour and visited a museum, the palace of Versailles, or the Paris Opera house.  The choir warmed up the stone walls of Paris's Notre Dame Cathedral during their special musical presentation.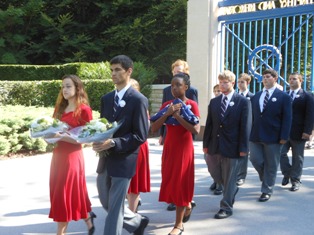 Our tour finished with a poignant and moving visit to the America Cemetery in Luxembourg after a grand final concert the previous evening.  SOA members presented flowers, as well as two new donated US flags (thanks to Don Barriger, father of a former SOA member), and performed music, including taps.  Cemetery staff and members of "Friends of US Veterans" came to share stories and to give special gifts to students whose relatives had served in the Battle of the Bulge.
SOA shared the joy of music and created good will among many.  Some Europeans arranged their schedules and vacations so they could attend our performances.  The enthusiasm for live music in Europe is incredible.  As is always the case on SOA, the 2013 tour members became very close and many close friendships and memorable moments were shared.
 Enjoy a brief video mix made by someone in France this past summer.
NEWS / 2014 Itinerary / FAQ's / Directors & Staff / Eligibility / How to apply / Cost & Inclusions / Non-Profit Information / Music / Safety & Security
Special Alumni / Distinguished Alumni Talk about SOA / Testimonials from Past Tour Participants, by state
2013 Highlights / 2012 Highlights / 2011 Highlights / 2010 Highlights / 2009 Highlights / 2008 Highlights / 2007 Highlights / 2006 Highlights / 2005 Highlights / 2004 Highlights / 2003 Highlights / 2002 Tour Highlights / 2001 Tour Highlights / 2000 Tour Highlights / '99 Tour Highlights / '98 Tour Highlights / '97 Tour Highlights /
PHOTO GALLERY / Fun website links / ALUMNI news /