The Sound of America
2014 European Concert Tour Itinerary
*For live cams of some of the following locations please click here to visit our Fun websites page*
ELIZABETHTOWN, PENNSYLVANIA
This afternoon you will arrive on the beautiful and historic campus of Elizabethtown College. Those arriving by plane will be met at the Harrisburg Airport by SOA staff. After registration, settle into your room and meet your roommate.
ELIZABETHTOWN - several days of rehearsal and concerts
These next few days will be spent in intensive rehearsal and tour orientation, as well as concerts for the public. Two Bon Voyages Concerts, held in the college's beautiful auditorium are usually performed before full-house audiences.
ELIZABETHTOWN - NEW YORK
Depart Elizabethtown and travel by chartered bus to New York for your transatlantic flight. Overnight flight to Europe.
ARRIVAL - ROTHENBURG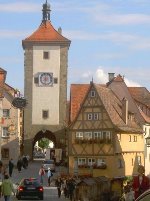 Guten Morgen! This morning your plane touches down in Germany. Board our private deluxe coaches and travel to the medieval town of Rothenburg, completely surrounded by ramparts. As you enter the town, you step back into the 16th Century.
ROTHENBURG
Rothenburg is a small fairy tale town complete with cobble-stone streets and tall gabled houses. Visit the small shops, museums, or explore the ramparts and watchtowers that surround this enchanting town. Tour the town in a horse-drawn wagon. A concert is planned for tonight. This evening, after the concert, you may wish to visit one of the quaint cafes where you can sample some delicious Bavarian pastry.
ROTHENBURG - SALZBURG
Our journey takes us through the German countryside to Salzburg, Austria. We will visit the famous Salt Mines located near Salzburg. Dressed in miner's coveralls, we you will have fun as you slide down giant slides to the different levels of mining shafts and cross an underground lake on a raft while learning about these mines which have been used for many centuries. Return to the surface aboard a miners' train before continuing to Salzburg.We'll plan to make a special stop to see the "Von Trapp" house as seen in the "Sound of Music" movie.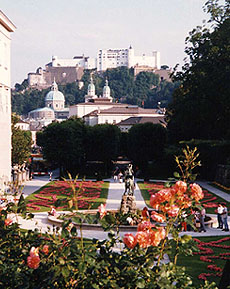 SALZBURG
Today we can enjoy visiting the beautiful city of Mozart and "The Sound of Music." You can explore the "Old Town" which includes Mozart's Birthplace, the lovely Mirabell Gardens and the Dom Cathedral. Perhaps walk or ride the funicular to the Hohensalzburg, the medieval fortress overlooking the town of Salzburg. (You can take a tour, which includes a museum of old musical instruments.) A concert is planned for this evening.
SALZBURG - VENICE
A morning drive takes us to the Austrian resort, Saalfelden. We will make a special stop at a giant Alpine Slide. Those who enjoy a thrilling ride can take the chair life to the top of the mountain and then get on a toboggan and speed down the mile-long Alpine slide which has 3 tunnels, 3 jumps, and 63 curves. Our journey continues south over the breathtaking Grossglockner Pass into Italy. Lunch will be planned along the way, in the Alps, before arriving in Venice. (Click here to see some Venetian masks.)
VENICE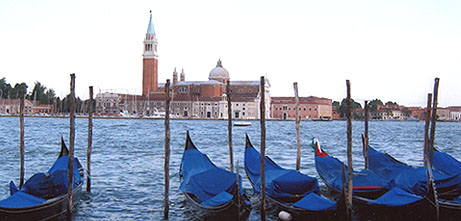 We start this morning with a private vaporetto boat ride into the heart of Venice. Our guided sight-seeing tour is on foot since no traffic on wheels is permitted in Venice. Our tour guide will explain and show us the history of Venice through the St. Mark's basilica, the Doges Palace and Bridge of Sighs. The tour concludes at the Murano Glass Factory where you can watch craftsmen fashion their delicate Venetian glass. You will have free time to go up the Campanile tower, or visit a museum, go to the Rialto bridge to view the Grand Canal. Tonight the SOA choir will perform for mass at St. Mark's Cathedral, an awesome musical experience! Famous musicians connected with this cathedral include Vivaldi and Gabrielli. A gondola ride through the winding canals would be a perfect way to end your visit to Venice.
Click here to see St. Mark's Basilica at night
VENICE - VERONA - STRESA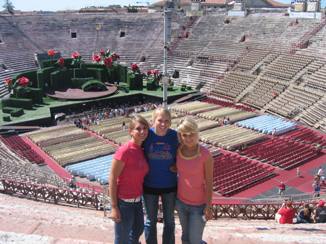 Click here to see Verona's Roman Coliseum.
Our first stop today is in Verona, the setting for Shakespeare's "Romeo and Juliet," where you can see the famous balcony of Juliet.We will also visit the well-preserved Verona Coliseum, the world's third-largest Roman Coliseum where major operas are still presented each summer. This town has a rich history, and you will see that throughout your visit. After lunch we continue through Italy to Stresa, a lovely Italian resort located directly on Lake Maggiore. Beautiful flowers, palm trees, mountains, water and fancy buildings all await you.
STRESA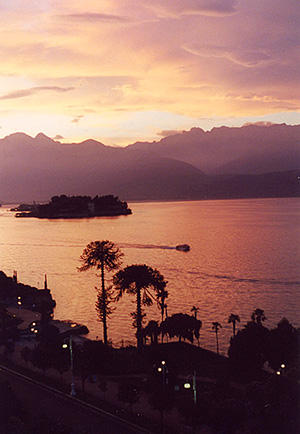 Located in a panoramic and picturesque setting on the 40-mile long Lake Maggiore, Stresa is an internationally renowned Italian resort. Here you can relax and swim today or take a boat ride to one of the nearby Borromeo Islands to see the palace. An evening concert is planned. A capacity crowd, in fact, a standing-room only crowd always attends our evening concert in Stresa.
Click Here to view a 166K Photo of Isola Pescatori, one of the Borromeo Islands
STRESA - GRINDELWALD
A morning drive takes us around lake Maggiore, through quaint towns and then over the scenic and thrilling St. Gotthard Mountain Pass. We'll stop on top of the pass to enjoy a picnic lunch by the mountain lake. We continue through the Sustenpass, with stunning views of the Swiss Alps to Grindelwald, a beautiful ski village located high in the mountains.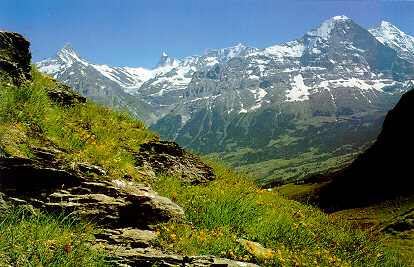 GRINDELWALD
A relaxing day will be spent in this incredibly located mountain village of Swiss chalets. You will have an opportunity to ride one of the longest cable car rides in the world to the top of the Alps. Upon reaching the top, you can hike along the many trails, sometimes covered with snow. Other opportunities include a trainride to the top of the Jungfraujoch - so high in the snow-covered mountains, you won't recognize anything! You may hike, ice skate or shop for watches, cuckoo clocks, music boxes and Swiss Army pocketknives. A concert is planned for tonight in the local concert hall.
Click to see a beautiful view of the Berner Alps from Bachalpsee
GRINDELWALD - LA CHAUX DE FONDS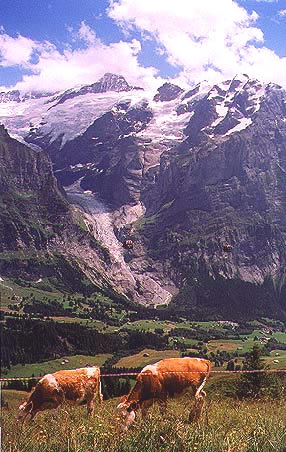 Today, after a leisurely morning in Grindelwald and then depart for La Chaux-de-Fonds where SOA will present a performance in the town's magnificient concert hall this evening. This town is the heart of the watch-making center of Switzerland.

LA CHAUX DE FONDS - PARIS
Enjoy lunch in Dijon, famous for its mustard and escargots. Later today, the Eiffel Tower appears on the horizon as we approach Paris. After dinner, we will take a relaxing cruise on the River Seine past many of the famous Paris landmarks such as Notre Dame, the Louvre, Musee d'Orsay, Eiffel Tower.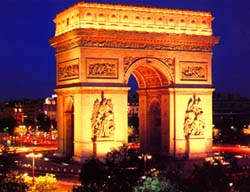 PARIS click for a picture of Notre Dame Cathedral
The Sound of America Honor Chorus plans to to perform inside the famous gothic 12th century cathedral of Notre Dame of Paris this morning. The band will have its performance in the very Parisian Luxembourg Gardens. After lunch, your guided sight-seeing tour starts with Notre Dame and takes you from Place de la Concorde, up the grand avenue of the Champs Elysées, to the Arc de Triomphe, the Eiffel Tower, the Louvre, Les Invalides, the Bastille square and finally the original Opéra, amonth other places. A performance for the band and choir is scheduled for this evening in one of Paris's largest churches.
PARIS (optional visit to Versailles)
Today affords you the opportunity to visit the many famous sites of Paris, such as the Louvre Museum where you can view the Mona Lisa, Winged Victory and Venus de Milo as well as works by Delacroix, David, Michaelangelo, Veronese, etc. Perhaps you would like to also visit Napoleon's Tomb and the military museum at Les Invalides or the impressionistic art museum, Musée d'Orsay. The Orsay museum holds works by Van Gogh, Manet, Renoir, Monet, Gauguin, etc. Or maybe you'd prefer to visit the famous Paris Opera Garnier, setting for the "Phantom of the Opera", the beautiful church of Ste. Chapelle or Paris's most visited cemetery, Pere LaChaise where Chopin, Moliere, Bizet, Jim Morrison, etc. are buried. Another option that will be offered is a guided tour of the Palace of Versailles. (A small fee of less than $20 will be required to cover the cost of the palace entry, palace tour guide and private transfer to and from Versailles.) Tonight all SOA members ascend to the top of the Eiffel Tower for an extraordinary view of the city..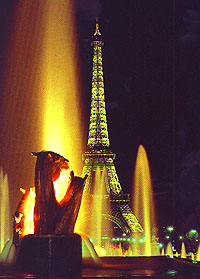 PARIS - LUXEMBOURG
This morning we pass through the famous area of France known for it's champagne. We will take a brief lunch here before continuing on to Luxembourg for an evening performance in Luxembourg's most prestigious concert hall. This concert hall is a treat to perform in, and the audience is always enthusiastic.
LUXEMBOURG -FRANKFURT
We start today with a visit to the American Cemetery in Luxembourg, where we can pay homage to the 5000 American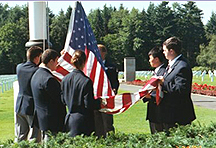 soldiers buried there who died in the Battle of the Bulge during World War II. Flowers will be placed at the grave of General George S. Patton. SOA always presents a ceremony to honor those who gave their lives. Selected students will participate in a flag retiring/raising ceremony, and flowers will be presented.
After lunch and some time for sight seeing and shopping in the cosmopolitan, but friendly city of Luxembourg. We will continue to Frankfurt area where a special farewell party is planned for tonight.
GERMANY - NEW YORK
Today our buses transfer us to the airport for our flight home. SOA Staff will assist those tour members who will make flight connections to their home cities while others may meet their families at our New York Airport or in Pennsylvania.

NOTE: In the event circumstances make it necessary or advisable to alter the itinerary, such modifications may be made.
To receive any information on our concerts, please identify yourself with an e-mail request and let us know how you heard of us and what concert information you would like.

LEARN MORE ABOUT SOA:
2014 Tour Info: 2014 NEWS / 2014 Itinerary / FAQ's / Directors & Staff / Eligibility / How to apply / Cost & Inclusions / Non-Profit Information / Music / Safety & Security / Featured Guest Clinicians 2014
SOA alumni testimonials and acheivements: Special Alumni / Distinguished Alumni Talk about SOA / Testimonials from Past Tour Participants, by state
Tour Highlights from past SOA summer programs: 2013 Highlights / 2012 Highlights / 2011 Highlights / 2010 Highlights / 2009 Highlights / 2008 Highlights / 2007 Highlights / 2006 Highlights / 2005 Highlights / 2004 Highlights / 2003 Highlights / 2002 Tour Highlights / 2001 Tour Highlights / 2000 Tour Highlights / '99 Tour Highlights / '98 Tour Highlights / '97 Tour Highlights /
See what the tour is like: PHOTO GALLERY / Fun website links /
PayPal Transactions: Make a Donation to SOA on-line / Make a Tour Payment online for a current student or applicant
Alumni: ALUMNI news and student news / Become a fan of our SOA Facebook page / Join your SOA year's Facebook group page by searching your year and "Sound of America" in Facebook

Last updated: 11-11-14